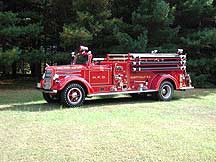 1947 Mack Model 45
"The Mack "is the pride and joy of the Hurffville Vol. Fire Co. 1. It is a Model 45 and it was built for Hurffville in 1947 for an amazing sum of $6,222.43. The Mack remained in active service until 1980 when it was replaced with a 2,000 gallon tanker/ pumper.
However, the truck was still kept for parades and other special occasions. At one point, benches were added to the hose bed area and the member's children rode there during local parades. At a monthly meeting in early 1994, the company passed a motion to have The Mack refurbished to its original state. Several bids were received and the winning bid was awarded to Delmarva Refurbishing Specialist Inc. The final cost for the complete restoration was $59,109.08. This money was money that had been raised over the years by having spaghetti dinners, turkey dinners, newspapers collections, yard sales. No public monies were involved.
The only part that is not to original specs is the water tank, which was replaced with a plastic tank to prevent rusting. The engine and the pump were also taken completely apart and re-built. Head gaskets for the Continental engine had to be hand made and shipped in from California . Casket rollers were added to the hose bed so that the truck should be used for funerals. The fire company had a survey done for insurance purposes by Equipment Survey's Unlimited Inc... They appraised "The Mack" at $70,000.
The Hurffville membership thought "The Mack" deserved a special place. When our new station was designed, we had a mini-museum included into the building. The Company paid for a ceramic floor to be put into the museum. Again, this was done out of the Company funds. This is another reason we hold a special place in our hearts for "The Mack" In its day, the truck served Washington Township and the surrounding communities with pride. It continues to serve the membership of Hurffville with it's "own sense of pride".